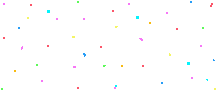 I'm very excited to share with you all that this Friday, August 28th, marks my two year blogging birthday! I'm kinda excited especially because when I recently decided to originally go back to my first post, I thought it was dated in September. It turns out the first post was just shy but I figured that was pretty good luck I searched back and didn't miss my date. [clearly that happened last year] 😉
This blog originally started as a way to showcase my book buying obsession, which still goes on today, but I have a tighter budget so I've calmed down…mostly. I did finally incorporate more reviews, participating in Top Ten Tuesday and Waiting on Wednesday features along with showing my geeky side and branching out into pop culture fun!
On top of cracking my knuckles at writing, posting, learning about blogging tips, etc, I've established some really awesome friendships and participated in some great events because of my book blogging & thirst for reading!
As I thought about how far things have come in my two years with an online book presence I decided to browse my shelves and pick out some titles that I figured could use a better home, so I'm hosting my first giveaway! While taking the books off the shelf and placing them into a pile I noticed they had a theme accidentally. They were similar shades and after I processed my blogiversary date I decided to do a theme! Most of the spines are white or on the lighter side and one happens to focus on Summer, so I thought what better way to host this giveaway then presenting a theme: No White Spines After Labor Day. Traditionally this coincides with white fashion, which you can read more about here, but I thought with Labor Day coming up for us in the US and summer ending I thought this would be a cute idea 😀
Again, this is my first time so bear with me 🙂
This will be a Rafflecopter giveaway where you can enter to win! The titles included are:
Vivian Apple at the End of the World (Vivian Apple #1) | Katie Coyle
Second Chance Summer | Morgan Matson
Six Months Later | Natalie D. Richards
Maybe Someday | Colleen Hoover
Stolen: A Letter to My Captor | Lucy Christopher
I really enjoyed reading these books and hope you do too! I wanted to do something fun with giveaway and decided since I don't have a Facebook where you guys can generate more entries, I was hoping those who participate can offer up some summer pics or white pics to go along with the Giveaway theme!
Good Luck to all those who enter and thanks in advance for participating! The giveaway starts on 8/28 and runs until 9/6 before Labor Day!
xx Linz aka The Kid